Operation Bottle Beanies is kicking off for 2019 September 19 – 21! Once again, Fifer's Orchard will be selling adorable, handmade little hats for jar and bottles, as well as handmade wash cloths to support Code Purple! Please have your first round of items to me by September 15 and this will continue until almost Christmas, when Fifer's closes for the Winter.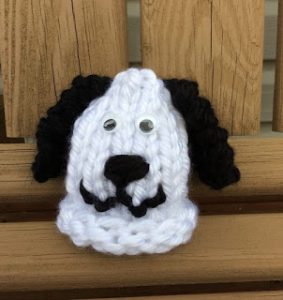 Those of you who know me know that I tend to steer clear of "official" non-profits because too often, the money donated goes towards advertising and marketing costs and to paying salaries instead of helping those in need. Code Purple operates shelters when the temperatures drop below freezing. Code Purple is run entirely by volunteers and through their unwavering, dedicated work, they help hundreds, if not thousands of people in Delaware stay warm throughout the Winter months.
#OperationBottleBeanies is community service at is best. We donate the hats and wash cloths and Fifer's donates the room in their store and their staff time to sell them and the Code Purple volunteers use that money to purchase whatever supplies are needed to operate the shelters. We all do a little and those who need it can be helped. We are all doing this out of love and a shared concern for our community.
We need LOTS of hats! From olive oil bottles to mason jars, Fifer's has many different size containers that can wear hats! They sell apple butter, honey, peanut butter, jams, pickles and so much more. Themed hats for Fall and Winter and holidays are great, as are any that include bees, produce, animals…….the possibilities are almost endless!
Preemie size hats are about the size for quart jars. There are lots of patterns for tiny hats online……….wine bottle hats, The Innocent Drink Big Knit project in the UK (which is our inspiration!) and most yarn companies have free patterns online. We have some free patterns on this blog too. These hats can be used to decorate the items, put on dolls, hung as ornaments….again, the possibilities are vast! They make adorable tie-ons for packages! AND they are helping people!
Washcloth patterns are very easy to come by and they are great ways to try out new stitch patterns too! Again, the cuter the better……eye catching ones sell first. Seasonal colors and designs are great! Washcloths are big sellers too! Everyone can use some new washcloths and they make great gifts too!
Join our Facebook page and see new ideas as we find them and all the beautiful things people create as they come in.
Of course, we are still collecting chemo caps in all sizes for people undergoing chemotherapy and blankets for children in foster care and those in crisis. I know it's asking a lot of people to support all these things at once, but however you can help, it will be greatly appreciated. Make what you like to make. Do whatever you can do without stressing yourself. Every single item helps someone. And if you can make hats, blankets and bottle beanies, then have it and we will get them where they need to go to help the most!
All items can be sent to DEHH at 202 Acorn Forest Drive, Felton, DE 19943. If you usually donate by using a Library drop off, please just add your new items to that and I will get them!
#OperationBottleBeanies has been a dream of mine for years………..I'm very happy that it is back and I hope we can see it grow and help more people in the future years.
If we each do a little bit, in our community, we truly do make a big difference. Imagine if everyone helped………….
Links to free washcloth patterns:
Washcloth patterns from RedHeart
Washcloth patterns from LionBrand
Washcloth patterns from KnitPicks
Crochet washcloth patterns for all seasons and holidays from Yarnspirations
Knit washcloth patterns for all seasons and holidays from Yarnspirations