Welcome to the Delaware Head Huggers blog called Knitting with Schnapps!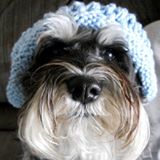 Schnapps always was and always will be our mascot and the inspiration for all we do. He was perfection wrapped in fur and the absolute best dog ever. We lost him June 21, 2018, when he was 14 years old. His loss is felt every single day, but we try to honor all he taught us during his brief time with us by continuing to spread kindness.
Schnapps has over 250 knitting patterns published on Ravelry, Craftsy, Etsy and Amazon. He has inspired thousands of chemo caps to be knit for those in need and his designs will hopefully continue to inspire many more.