In honor of Schnapps, I am posting the pattern for Undulations free for everyone. It can be found on
the Knitting with Schnapps site
along with many other free hat patterns.
The pattern includes instructions for all yarn weights and is a simple, stranded color work hat. The model was worked using Knit Picks Cotlin yarn, so it's a great chemo cap for the summer months. The pattern is a 10 stitch – 7 row repeat, so it will translate nicely into other weights as well. Want to learn how to adapt all hat patterns for the yarn you already have? I have a book for that! 🙂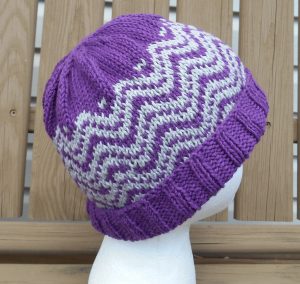 I have created an eBook to help you design your own hat patterns, using whatever yarn you have in your stash. I've been working on this for quite a while and while it's far from a comprehensive guide to hat knitting, it does cover all the basics that you need to get started. Schnapps would want everyone to keep making a difference for those fighting cancer!
Often I get questions about how to adapt patterns for different yarn weights and how to adjust them for different sizes. I tried to cover all the main steps to doing that in Stash Hats. The book also includes directions for adapting circular patterns for flat knitting and flat patterns for circular knitting. I hope it helps many of you make fabulous hats! Here is the Table of Contents so you get an idea of what's included.
Steps to Starting a Hat
1. Choosing yarn and needles
2. Deciding on size
3. Knowing how many stitches to cast on
3. How to cast on for circular needles
Choosing Your Style
1. Different Brim Styles
2. Different Body Styles
3. Decreasing the crown
4. Adding Something Extra
5. Finishing
Adapting Flat and Circular Knitting Patterns
1. From Circular to Flat: Braided Hope Hat Pattern
2. From Flat to Circular: Stylish Tiles Hat Pattern
Adapting A Pattern
1. Substituting yarn weights
2. Calculating yarn multiples/adjusting the size
Helpful Information
1. Reading Yarn Labels
2. Tips
BONUS:
1. The Lumpy, Bumpy Hat pattern
2. Undulations Pattern